Help of purchase
If you have trouble ordering online we can shop on your behalf. You will pay us from your Byclica deposit and we will purchase what you need. We are able to purchase many hard to get products from various online and even actual stores.
Tell us what products you want to purchase
Give us a description, quantity of item desired, product number, and total price including shipping to our warehouse. You can do this by placing your selected items into a shopping cart on your favorite website, go to checkout, enter our shipping address and this will give you the total cost. You will enter all the information in your account (click on Assisted Purchase).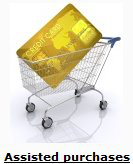 We will check availability and purchase products
We will check if the products are available and we will email you total price including our fees. If you have enough money in your deposit we will make the purchase immediately. Otherwise we will notify you as to how much you still owe.
When, and if, any item in your order is not available, we will purchase what is available. 50% of your order must be available otherwise the order will be canceled. If less then 50% of your items are not available we will notify you via email.
Once received we ship them to you
Once we receive your products in our warehouse we will double check what items were received and enter them as packages on your account. For example, if you buy some shirts or shoes we will check if correct size was sent by the store.
How much does it cost?
The cost of our assisted purchase service is $15 (plus cost of purchase, bank fee, commission, and shipping). The price applies to 10 unique items of the purchase. For example if you plan to purchase 15 unique items the price will be two times $15 ($30). If you purchase hundred of the same item the price remains $15.